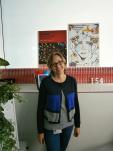 Carmen Espinós
Team Leader
Dr. Espinós is graduated in Biological Sciences (University of Valencia) in 1993. She began her scientific activity in human genetics in the development of his doctoral thesis defended in 1998.


Since then she has participated in projects related to the investigation of the genetic basis of retinopathy, congenital coagulation disorders, metabolic diseases and peripheral neuropathies. In
2009 she was awarded with a contract within the Program Miguel Servet of the Instituto de Salud Carlos III as an independent researcher.
She is the author of numerous publications on the genetic basis of rare diseases in international journals of impact. She is acc
redited in Human Genetics by the Spanish Association of Human Genetics, and currently, she has four recognized tracks of research by the AVAP. She is accredited as a full professor by the ANECA and currently teaches classes at the Universidad Católica de Valencia.


Since 2013, Dr. Espinós heads the Unit of Rare Neurodegenerative Diseases, where the main research lines are focused on the characterization of new genes and new mutations involved in rare neurological disorders and the study
disease mechanisms underlying this group of disorders.